Tonight features mostly clear skies – should be a good night for stargazing! It won't be too cold either with lows in the lower 40s. Some patchy areas of fog are possible.
Wednesday is going to be a 'sun-sational' day, with plenty of sunshine and a big warmup in store with high pressure shifting to our east. We'll see high temperatures make a run at 70 degrees! Enjoy this beautiful day because our chances for rain will be high for the following two days.
Thursday brings an area of low pressure down to our south along a stalled stationary front. In general, the farther south you are, the more showers you will see. In addition, the showers will primarily fall in the morning, with afternoon drying taking place. Our northern counties will especially feature a lot of dry time but will still be cloudy. Despite the clouds, it will still be an abnormally very warm day, with highs in the middle 60s.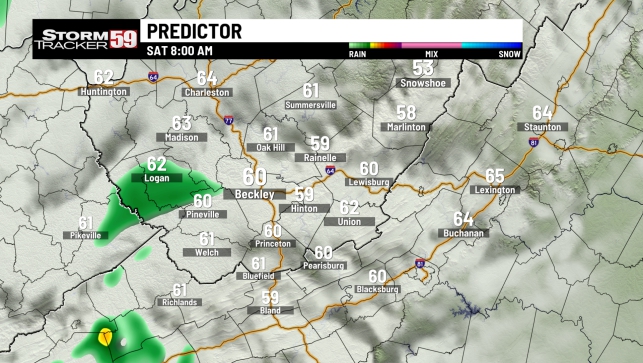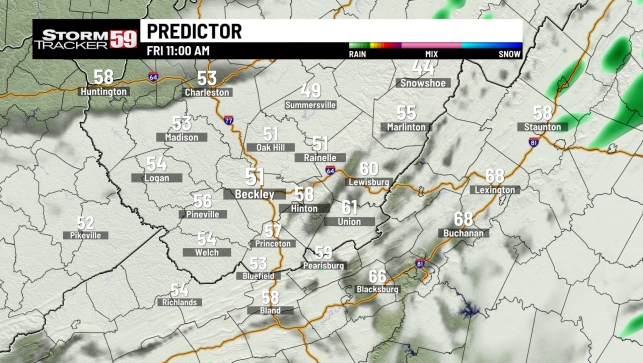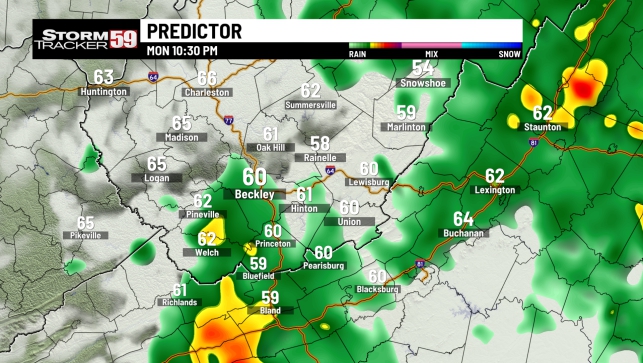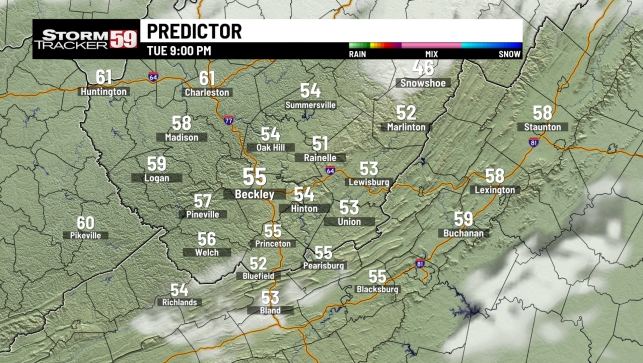 Friday creates an even better chance for showers, as Thursday's stationary front looks to shift north as a warm front, so we'll have showers along that front during the morning hours, a break in the action around lunchtime and then another stout cold front for our Friday evening, which could provide a few gusty showers. We'll keep an eye on it! It will be a breezy day, with wind gusts up to 40 mph appearing likely! Highs will be very warm, as we'll once again jump into the lower to middle 60s – keep in mind, our average high for this time of year is 47 degrees!
Saturday keeps a couple of showers in the picture along the mountains around dawn, but we'll see clouds try to break in the afternoon. It will be much cooler, with highs dipping back to near normal, with highs in the upper 40s.
Sunday brings the mostly sunny skies back into the picture, with a Canadian high pressure system heading from the west. With our high pressure area to our west, that's still a cold air flow, so highs won't rebound much – in the lower 50s.
Monday is warmer with high pressure moving north of the region. We will see plenty of sunshine, with highs in the upper 50s as we begin our first work week in March.
Tuesday could bring a couple of isolated showers back into the picture, with a weak area of low pressure likely nearby. There looks to be plenty of dry time at this point, with high sin the middle to upper 50s.
Looking ahead, we've got one small window of colder weather lurking for the following weekend during the span of March 9th to March 11th, where we could see below average conditions. Aside from that, we're looking at average to above average temperatures once again – so the overall chances for any meaningful snow between now and the official end of winter is not looking great at this point. As always, we'll keep you updated! 
TONIGHT
Mostly clear – still mild! Lows in the lower 40s.
WEDNESDAY
Mostly sunny and SUN-sational! Highs around 70.
THURSDAY
Showers likely, especially in the morning with the steadiest showers south. Drier afternoon. Highs in the middle 60s.
FRIDAY
Rain likely, breezy once again! Highs in the lower to middle 60s.
SATURDAY
AM sprinkles, PM sunshine. Cooler. Highs in the upper 40s.
SUNDAY
Mostly sunny and seasonal. Highs around 50.
MONDAY
Partly sunny and warmer! Highs in the upper 50s.
TUESDAY
A couple of sprinkles possible, otherwise partly sunny. Highs in the middle to upper 50s.
WEDNESDAY
Few isolated showers possible. Highs in the lower 50s.
THURSDAY
Mostly sunny but cool. Highs in the middle 40s.
FRIDAY
Partly sunny and still cool. Highs in the middle 40s.