A strong storm system brought very gusty showers and strong winds overall to the region yesterday afternoon and into the overnight, causing thousands of outages. A few peak wind gusts in our region include Snowshoe in Pocahontas County at 59 mph, Burkes Garden in Tazewell County at 54 mph, Bluefield at 51 mph, near Mountain Lake at 51 mph and Beckley at 49 mph.
Mostly clear skies this evening will allow temperatures to drop down to around freezing tonight in an otherwise much more tranquil night than back on Friday night.
A high pressure system will shift southeast on Sunday and that will enable our temperatures to rise nicely for the second half of the weekend. High temperatures will return to the middle to upper 50s under mostly sunny skies.
Monday will be a very warm start to the work week! Plenty of sunshine and high pressure off of the Outer Banks enables our return flow to really kick in, as a southerly flow will allow temperatures to jump into the middle to upper 60s!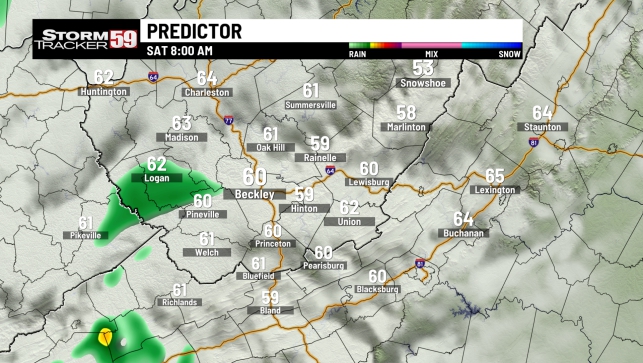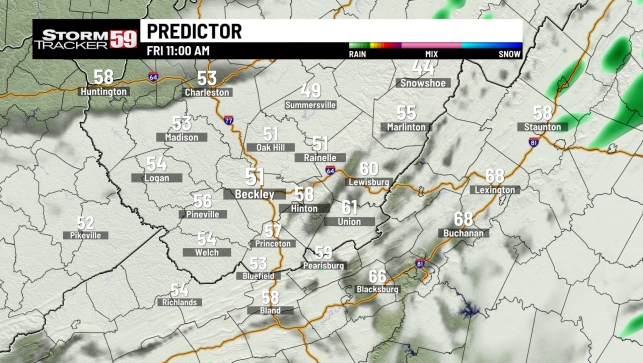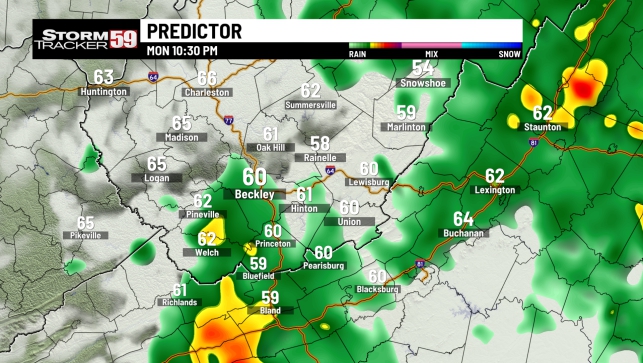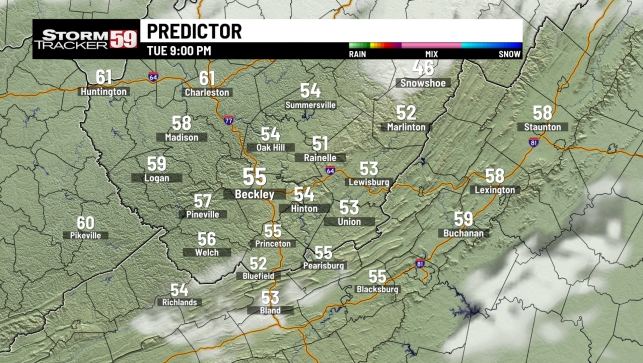 Tuesday brings a couple of showers back into the picture with mostly cloudy skies as an area of low pressure bobbles through the region in the morning. High temperatures in the middle 50s will make for a decent day and we should be dry by the afternoon.
Wednesday looks dry at this point but another storm system will begin to approach later in the day which should bring some clouds late in the day. Otherwise, it's a mostly sunny day with high temperatures taking a dip back into the middle 40s with a northerly flow.
Thursday brings the clouds back but we should remain dry. A frontal system will move into the Bluegrass State late in the day, which will push showers into the two Virginias during the overnight. High temperatures will rebound into the lower 50s.
Friday brings a warm front north with a few showers a good bet at times with high temperatures cooler in the middle 40s. A polar area of high pressure to our north will begin to usher cooler weather into the region. We haven't had too many days recently below average in terms of high temperatures, but this trend looks to stick for a few days off and on!
Looking ahead, this cold pattern looks to peak in strength for the beginning of the following week around March 13th to March 15th as the effects from a polar high-pressure system appear to be slowing down a bit with a couple of systems pushing through our region. This pattern looks cold enough for perhaps even a few snow showers at times, though significant snow accumulations are not expected in our region. Also, don't forget that the spring fire season is in effect in West Virginia! No burning in West Virginia from 7 a.m. to 5 p.m.
TONIGHT
Mostly clear and chilly. Lows around freezing.
SUNDAY
Mostly sunny and a bit warmer than Saturday! Highs in the middle to upper 50s.
MONDAY
Mostly sunny and VERY warm! Highs in the middle to upper 60s.
TUESDAY
Mostly cloudy with isolated sprinkles. Highs in the middle 50s.
WEDNESDAY
Mostly sunny but cooler. Highs in the middle 40s.
THURSDAY
Increasing clouds but dry still. Highs in the lower 50s.
FRIDAY
Few showers possible. Cooler. Highs in the middle 40s.
SATURDAY
Shower chances continue. Highs around 50.
SUNDAY
Few showers once again possible. Highs in the lower 50s.
MONDAY
A few rain and snow showers. Highs in the upper 30s.
TUESDAY
A couple of snow showers. Cold! Highs near freezing.