Tonight provides mostly cloudy skies and the breeze will be felt as colder air works its way into the region behind a cold front that is crossing. Temperatures will drop back into the middle to upper 30s overnight. 
Friday is yet another breezy day, but we'll have high pressure in control, which will make for plenty of sunshine as we wrap up the work week. Highs will be in the middle 40s, so much cooler behind Thursday's front – but still not below normal for this time of year – we are just back to normal for late February standards.
Saturday brings a weak southern low-pressure system into the two Virginias. As a rule of thumb, the farther south you are, the better chance for showers for the day for you. It'll be yet another cooler day, with highs in the middle 40s but the reality of this weather is that this is once again perfectly normal temperatures for this time of year! Heavy rain is not expected, with most of us seeing less than a quarter of an inch of rain.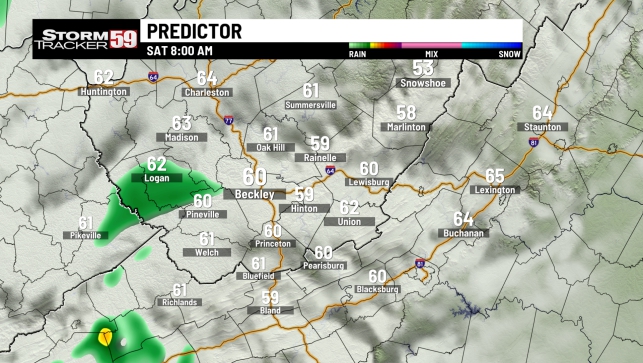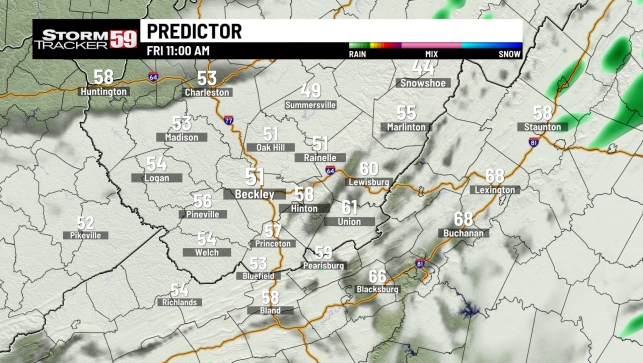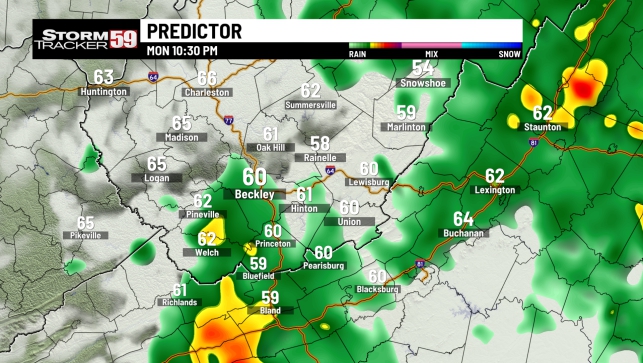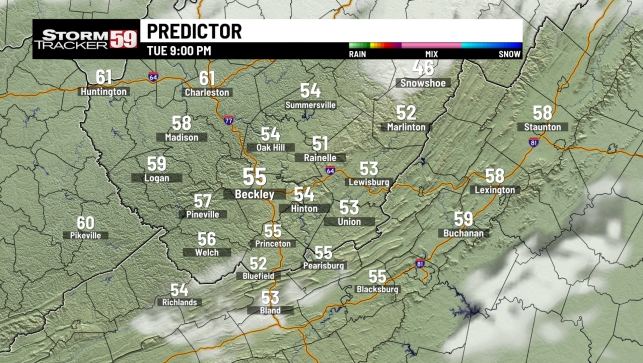 Sunday is trending drier! We'll have mostly cloudy conditions but other than perhaps a sprinkle or two, we should be dry! Temperatures will warm up a bit as well, with highs in the lower to middle 50s.
Monday looks to be an active day of weather at this point, with a warm front pushing through the region from south to north in the morning and a strong cold front pushing through in the evening after a break during the afternoon. If we can see some sunshine, we could have a few gusty storms in place. Regardless, it will be a breezy day and it certainly looks warm, with high temperatures in the middle 60s.
Tuesday cools us down behind our strong cold front, with a northwest flow perhaps allowing periods of light drizzle over the mountains in the morning. We'll see a clearing trend throughout the day with sunshine by the afternoon and highs in the upper 40s.
Wednesday is much warmer, as high pressure shifts east, allowing a nice southerly flow to return. We'll see high temperatures sprout up once again into the upper 50s.
Looking ahead, it's still an overall warm pattern in place as we wrap up the month of February. Though there are occasional breaks in the overall warm pattern with storm systems moving through, there is no real sign of any wintry weather chances on the horizon for the two Virginias. The only real period of cold weather over the next couple of weeks appears to be next Saturday and Sunday, where temperatures could dip below average for a couple of days – very short-lived. We'll see if a colder pattern can develop during the month of March.
TONIGHT
Mostly cloudy and breezy. Lows in the middle to upper 30s.
FRIDAY
Partly sunny, continued breezy conditions. Cooler. Highs in the middle 40s.
SATURDAY
Few showers likely, especially south. Cooler again. Highs in the middle 40s.
SUNDAY
Just an isolated sprinkle, otherwise mostly cloudy. Highs in the lower 50s.
MONDAY
Rain likely, perhaps a few rumbles of thunder? Breezy and warm. Highs in the middle 60s.
TUESDAY
AM sprinkles, decreasing clouds throughout the day. Highs in the upper 40s.
WEDNESDAY
Partly sunny, with increasing clouds in the afternoon. Highs in the upper 50s.
THURSDAY
Few showers return. Highs in the middle to upper 50s.
FRIDAY
Rain looks likely. Highs in the middle 50s.
SATURDAY
AM rain/snow. PM clearing. Colder, with highs near 40.
SUNDAY
Mostly sunny, cool. Highs in the lower 40s.