Tonight provides mostly cloudy skies with perhaps a sprinkle or two but most of us are dry. It's a mild night in store as our abnormally warm air mass remains in place, with low temperatures only dropping into the lower 40s tonight. That's our typical range for average high temperatures for this time of year!
Wednesday brings just a couple of sprinkles into the picture. It's a mostly cloudy day but expect a peak or two of sun on an otherwise warm day as our cold front from Tuesday stalls near the region. The lack of moisture with the front means showers will be light in nature and very scattered. Temperatures continue to be on the warm side as we reach the upper 50s to near 60 despite the abundant clouds.
Thursday we finally give our stalled system a little nudge with a few isolated showers to start the day. A few quiet hours mid-morning through the early afternoon for most of us before the system finally exits Thursday evening. Aside from it being yet another breezy day, it's a low-impact type of system. Our storm system will exit with a broken line of showers before we dry out late into the overnight hours. With the southwest breeze, it's a very warm day on the way, with highs up into the lower 60s. However, our next system is hot on the heals of this one leaving us so expect cloudy skies to continue.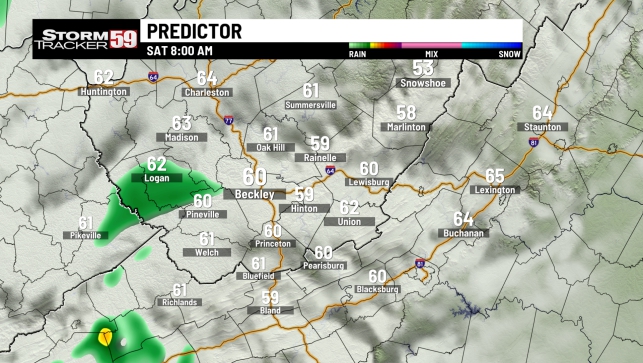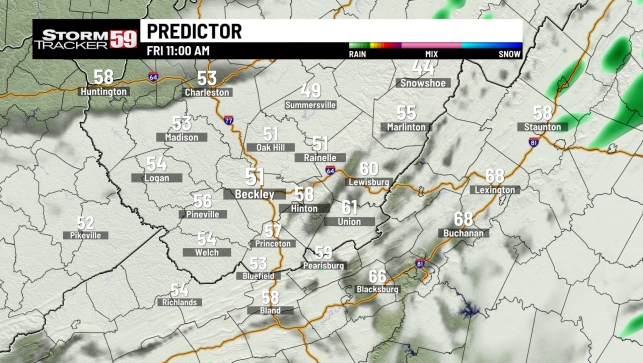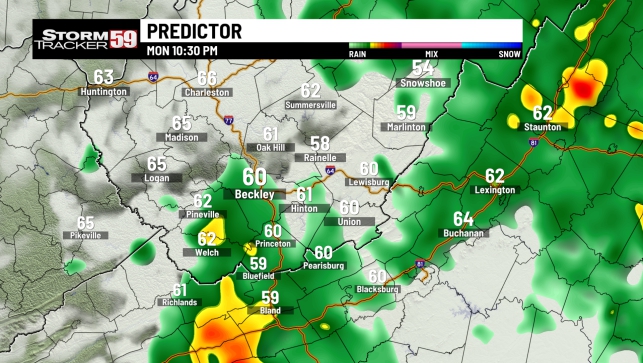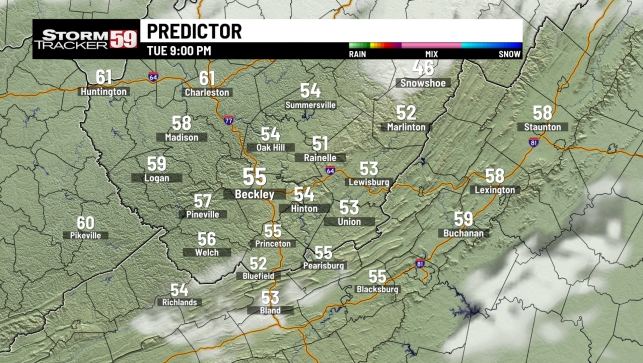 Friday is a mostly cloudy day where most of us stay dry. As our next rain maker pushes up from the south, a few of our southern counties run the risk of an isolated shower midday through the evening. The farther north and west you are, the more likely you'll find Friday to be a completely dry day. We do start to cool off as northwest winds take over, dropping afternoon highs back into the 50s which is still well above average. Friday night we'll see another shot at light rain showers area wide into our Saturday morning as our temperatures come crashing down.
Saturday brings the potential for a few rain as well as snow showers back into the region with another area of low pressure scooting through. This appears to be a low-impact event overall, but some fine-tuning with this storm system awaits before the exact track of this storm is determined. We'll keep you updated! 
Sunday a few lingering snowflakes for the mountains in the morning is possible but most will see clouds beginning to fade. Partly sunny skies for most Sunday afternoon with more clouds than not for the eastern mountains. Afternoon highs are near normal in the lower 40s but wind chills will certainly make this feel colder. Skies continue to clear into the evening as high pressure builds back in.
Monday allows a return flow to kick back in, as a southwest flow warms us back up into the 50s. We'll see highs up into the lower 50s under mostly sunny skies – a beautiful start to our next work week!
Tuesday also looks very warm and dry once again as a southwesterly flow looks to push us up into the middle 50s with partly to mostly sunny skies.
In your extended forecast drier weather wins out and it appears we return to warmer temperatures as our jet stream continues to fluctuate. The overall long-range forecast shows the back half of February is on track to be cooler than average.
TONIGHT
Mostly cloudy, isolated sprinkle. Lows around freezing.
WEDNESDAY
Mostly cloudy, isolated sprinkle possible. Most stay dry. Highs near 60.
THURSDAY
AM rain, brief break, PM showers. Highs in the middle 60s. Breezy!
FRIDAY
Windy and cooler. Clouds building back late with an isolated shower. Highs in the middle 50s.
SATURDAY
A few rain and snow showers. Cooler, with highs in the upper 30s.
SUNDAY
Mountain flurries early, clearing for all PM. Highs in the lower to middle 40s.
MONDAY
Warming up with sunshine. Highs in the lower 50s.
TUESDAY
Another nice day, warm. Highs in the middle 50s.
WEDNESDAY
Scattered showers return. Highs in the upper 50s.
THURSDAY
Showers once again possible. Highs in the middle 50s.