WINTER WEATHER ADVISORIES Have been issued ahead of our next messy winter system tonight into Tuesday. Freezing rain is the main threat with some ice accretions (totals) inching towards the tenth of an inch mark. Enough to create hazardous travel conditions and isolated power outages. While snow is not a major concern, higher elevations may pick up close to an inch by Tuesday morning on top of any ice that accumulates, hiding the icy danger on roadways. Here is the full list of alerts and times issued for each county:
Northwestern Pocahontas County: From 11 P.M. Monday (1/30) until 1 A.M. Wednesday (2/1)
Nicholas, Fayette, Raleigh, & Wyoming County: From 1 A.M Tuesday until 1 P.M. Tuesday (1/31)
Western Greenbrier County: From 4 A.M. Tuesday until 1 P.M. Tuesday (1/31)
Tuesday, Winter Weather Advisories are in effect for freezing rain and snow in the pre-dawn hours. The morning commute looks to be hazardous with ice totals pushing towards a tenth of an inch for some. For those south of Rt. 460 through Mercer County, we should remain warm enough to see all rain however, those north of Rt. 460 will be the ones dealing with freezing rain for much of our Tuesday mid-morning. Travel will be better later in the day as temps push above freezing for the afternoon with highs in the upper 30s.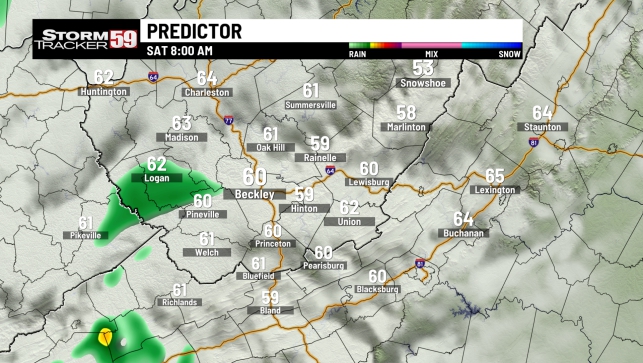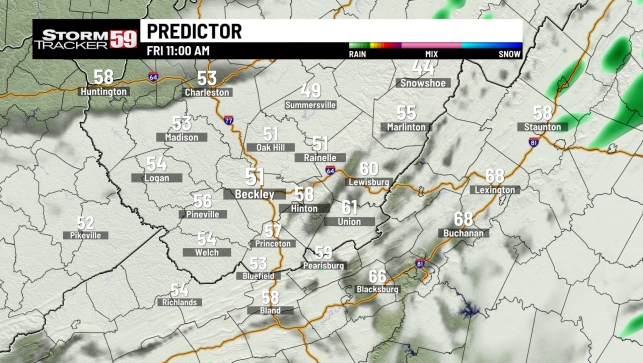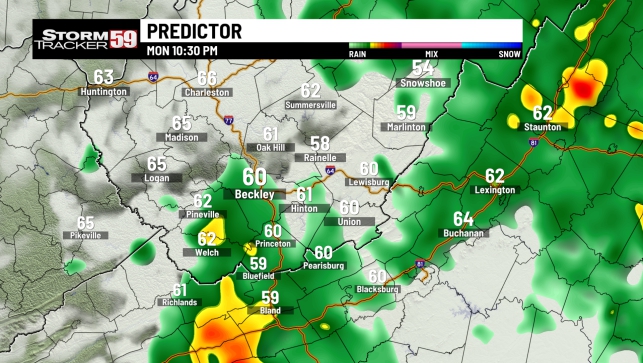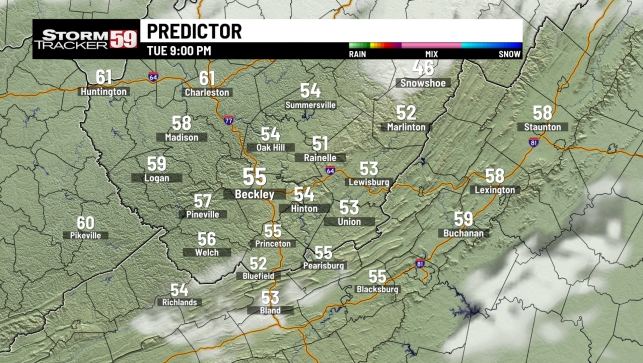 Tuesday evening, most of us get a brief break in the rain as one system exits and another slides in from the south. This time, those south of RT. 460 will see freezing rain change to snow in the late night hours. A grassy coating is the most we can expect with many just seeing flakes. To the north, mountain counties like Pocahontas and Greenbrier along the higher elevations will also see a few instances of snow flakes, again, with little to no accumulations expected. Overnight lows in the 20s will create instances of refreezing leading to slick travel overnight into Wednesday morning.
Wednesday a stationary front will keep shower chances alive for the morning hours with temps cool enough for freezing rain once again for the morning commute. Another day where early morning travel will be hazardous early on. By mid morning we should see showers exiting once again as our stationary front slides southward. Broken clouds by the evening commute should keep roads clear. We're still cold and damp with highs only in the mid to upper 30s. An isolated sprinkle Wednesday night possible with most staying dry until Thursday morning.
Thursday we look to remain warm enough for rain showers but instances of patchy black ice or freezing rain is possible in the higher elevations early on. Temps work their way up above the freezing mark for all by the afternoon with highs in the low 40s. Showers will finally begin to exit for good as high pressure regains control Thursday night. Expect a few windy hours as cold air rushes in dropping overnight temps into the teens and 20s. Patch black ice will certainly be a safe bet into Friday morning.
Friday is a frosty start but drier air pushes in from the northwest. Colder, sure, but at least our gloomy run is coming to an end. Despite more sunshine through the day, blustery northwest winds will keep us chilly with highs only in the upper 20s and low 30s. Wind chills will certainly be an issue as well so not exactly a great improvement.
Saturday looks a little more seasonal with a mix of sun and clouds. A cold start will warm up through the day with highs in the upper 30s and low 40s. About where we should be this time of year. Clouds will thicken up by late Saturday night as another messy system is looking likely for Sunday.
Sunday will be a mixed bag kind of day with snow showers for the mountains early with rain showers for all by the afternoon. Highs for the day push the 40 degree mark before falling after sunset. Freezing rain and snow showers Sunday night will make for slick travel as will black ice Sunday overnight with lows in the upper 20s.
Monday holds the chance for a few mountain flurries and the cold feel stick around most of the morning. Patch black ice is a safe bet but we'll warm up during the day with sunshine to help clear roads up. Highs pushing into the 40s once again.
Tuesday will start dry with sunshine as we work our way up from the upper 30s to the upper 50s by the afternoon. Clouds will increase throughout the afternoon and evening with rain showers late overnight into our Wednesday morning.
In your extended forecast the prospect of a warm up is looking likely for the early part of February. However, the on again, off again line up of storm systems looks to keep us soggy. For now, the muddy winter of 2023 looks to hold true to its name with no real threat of a major, (or minor for that matter,) snow event.
TUESDAY
Freezing rain/rain. Slick travel. Highs in the mid to upper 30s.
WEDNESDAY
Snow early then freezing rain/rain. Highs in the mid 30s
THURSDAY
Mtn. Flurries. Clearing elsewhere. Highs in the low 40s.
FRIDAY
Windy and cold. Sunshine. Highs in the upper 20s.
SATURDAY
Mix sun & clouds. Still chilly. Highs in the mid 30s.
SUNDAY
Snow to freezing rain to rain back to snow. Highs in the 40s.
MONDAY
Mtn snow flurries, clearing PM. Highs in the low 40s.
TUESDAY
Dry with more sunshine Clouds late. Highs is the upper 40s.
WEDNESDAY
Few clouds, showers late. Highs in the mid 40s.
THURSDAY
Sct. Showers. Mostly Cloudy. Highs in the upper 40s.