Watches/Advisories in Effect
Wind Advisory for Nicholas County until 8 p.m. Saturday.
Wind Advisory for northwestern Pocahontas County until 12 a.m. Sunday.
---
Tonight continues the chances across the region but they'll be much lighter in nature tonight than the gusty showers that blew through during the afternoon Friday. As we head toward dawn, a line of showers with perhaps a few embedded rumbles of thunder will arrive. This will likely pass through between 5 a.m. and 8 a.m. The line will be weakening as it blows through from west to east, but the storms will be capable of a brief strong puff of wind of 30 to 50 mph, with brief heavy rainfall and certainly some reduced visibility on the road. Be careful if you plan on venturing out. Most of us will see between a quarter and a half inch of new rain, so no flood threat is present. Low temperatures will drop into the lower 50s.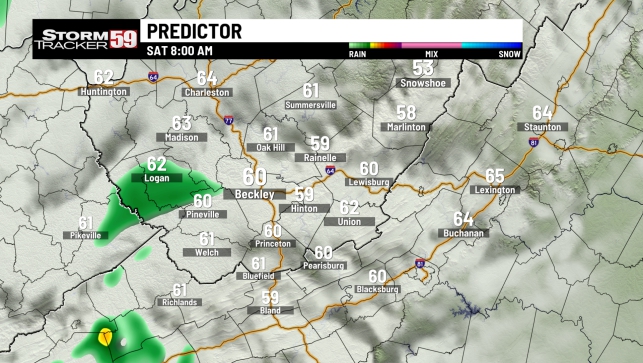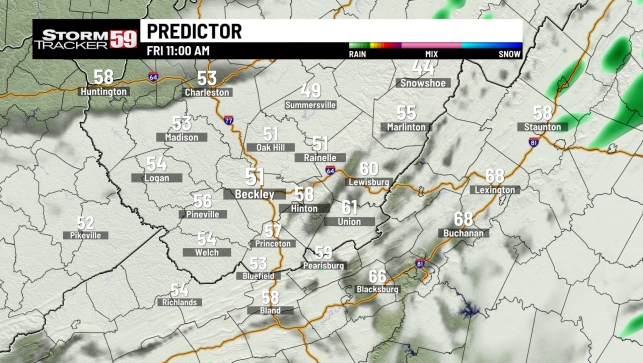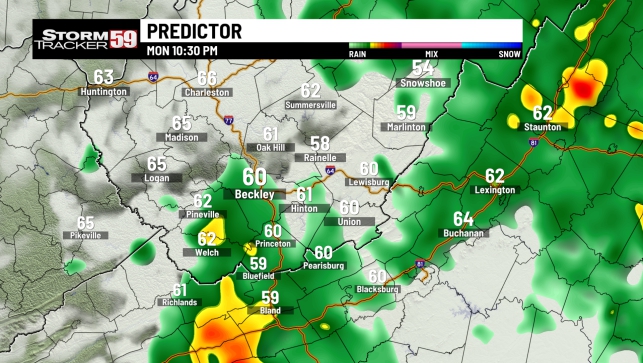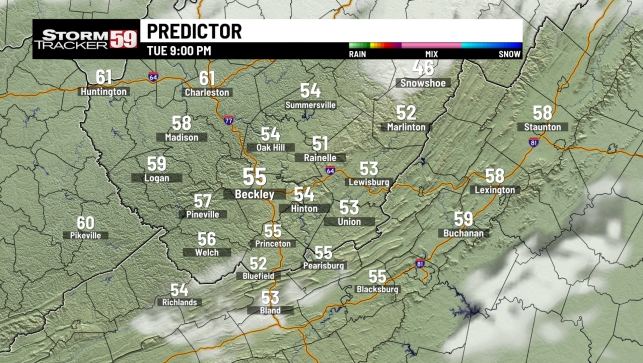 Saturday continues above-average temperatures, with high temperatures near 70. For those looking for plenty of sunshine, that will hold off until right before sunset, when the skies finally begin to clear. In the meantime, through the late morning and early afternoon, a few light showers will be possible, but nothing like the gusty showers early in the day. Despite the lack of overall rain shower activity, it'll still be a blustery afternoon, with wind gusts in the neighborhood of 25 to 40 mph possible.
Sunday sends the sunshine back our way! Sunday appears to be the better of the two days weather-wise with ample sunshine expected and highs warming into the lower 60s with high pressure in control. Not a bad way to wrap up the weekend – if you need to get the grass mowed, this would be a perfect day to do it!
Monday brings back the chance for just a couple of light showers. Most of the day should be on the dry side, but clouds will be dominant for the first day of the work week, with an upper-level disturbance keeping at least the chance for a sprinkle or two around. It's still a mild day overall, with high temperatures in the middle 60s.
Tuesday returns the chances for shower activity, as a front scoots in, which will invite some cooler weather back into the region. Tuesday's highs will be in the middle 50s, with perhaps an absence from the 60s expected for a few days following behind the front.
Wednesday is looking good! Mostly sunny conditions return but it is cooler with a northerly flow returning to the two Virginias. High temperatures will regress back to around 50 degrees, which is slightly below average for this time of year. Nonetheless, it's not a bad day at all, with plenty of sunshine expected.
Thursday provides a warming trend, as we begin to jump back up toward the 60-degree mark. We'll see partly cloudy skies but clouds will be on the increase out ahead of our next storm system, which looks to arrive on Friday. This could give us a few days with at least the chance for a couple of showers, with a bit of an unsettled pattern looking possible.
Friday brings those chances for a few showers to fruition, with highs around 60. Rainfall looks to be on the light side at this point.
In your extended forecast, beyond next Friday, conditions are looking drier for a few days and that looks to bring a return to the warmer weather once again. Don't be surprised to see the mercury climb back up into the 60s by the following weekend – hopefully the sunny trend remains between now and then!
With spring officially getting underway remember spring fire season bans are enforced for both Virginias. Ban times vary by state however the rules are similar. Only burn vegetation, remain with your fire at all times, have a safety perimeter of at least 10 feet around your fire, and be sure your fire is completely extinguished before leaving it. This time of year, brush fires can happen quickly, potentially leaving you on the hook for fines, damages, and lawsuits if found to be burning outside of state guidelines.
TONIGHT
Few showers at times. Windy. Lows in the lower 50s.
SATURDAY
Rain likely early, gradual clearing late. Highs near 70.
SUNDAY
Partly sunny, nice end to weekend! Highs in the lower 60s.
MONDAY
Couple of showers, plenty of dry time. Highs in the middle 60s.
TUESDAY
Mostly cloudy with a few showers possible. Highs in the middle to upper 50s.
WEDNESDAY
Mostly sunny, cooler. Highs around 50.
THURSDAY
Partly sunny, seasonal. Highs in the middle to upper 50s.
FRIDAY
Mostly cloudy with a few showers. Highs near 60.
SATURDAY
Few showers once again. Highs in the middle 60s.
SUNDAY
Mostly cloudy with a few showers. Highs near 60.
MONDAY
Partly sunny and warmer. Highs in the middle 60s.