Tonight allows the clouds to increase in coverage, as our next system approaches from the west. We will be dry across the two Virginias tonight. Any period of time that is dry that allows the creeks and rivers to continue to drop in height and flow strength is good news! Low temperatures tonight will drop down to right around 40 degrees.
Monday brings a cold front through the region, which will give us the chance for a few showers. We're not looking at much rain, so no issues of flooding are expected, but it'll be a gloomy start to the work week with mostly cloudy skies and high temperatures near 50 degrees.
Tuesday could bring some foggy conditions into the picture for the morning commute, and we will see a few showers with yet another front crossing through during the morning hours. By the afternoon, we'll see the sunshine return. Despite another front in the area, we will see temperatures warm up, with highs up into the middle 50s.
Wednesday's rain chances are likely, as a warm front lifts north once again with another corresponding cold front that looks to push through Wednesday night into early Thursday morning. Once again, rainfall at this point does not appear high enough to warrant concerns for flooding, but it'll be yet another gloomy day. Despite the clouds and overall gloom, we'll have a nice warming trend in place, with highs soaring all the way up into the upper 60s!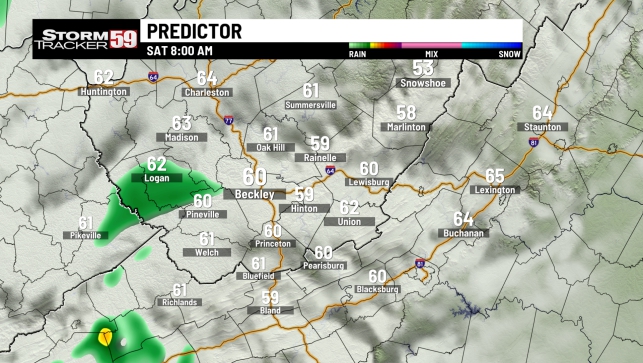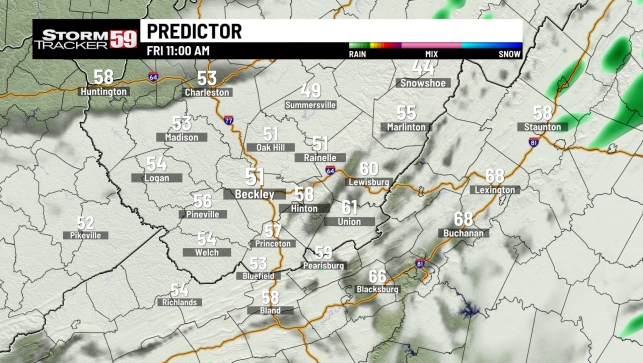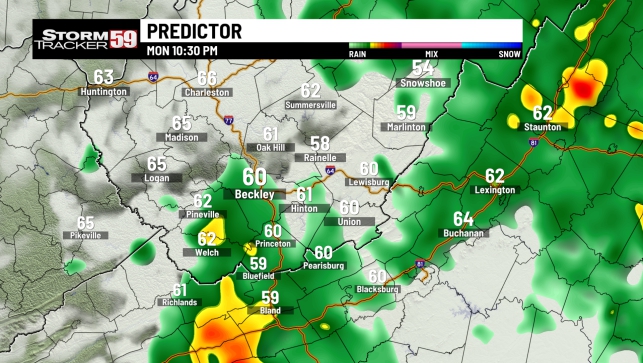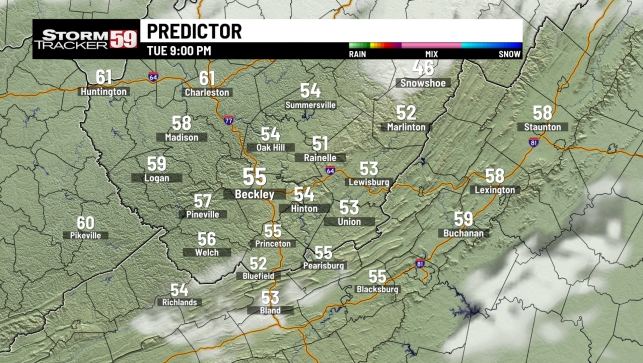 Thursday keeps a few showers into the picture during the morning, but we should see some sunshine by the afternoon. The bigger story will be the extremely warm weather in place, as many of us will jump into the 70s for highs for our Thursday! Beckley's record high temperature is 75 degrees set in 2018 and Bluefield's record high is 74 degrees set in the same year. We will likely fall just short of the values, but highs in the lower 70s should be commonplace with sunshine returning for the afternoon and breezy conditions being in place.
Friday is a quiet day on the way to wrap up the work week – that's a big difference from last Friday! High temperatures will be much colder behind a cold front that will pass through Thursday night into Friday morning, as we likely remain in the upper 40s for highs.
Saturday brings showers back into the picture in what looks to be the beginning of a wet pattern in place for the following few days. Showers don't look overally heavy but it does look to be an umbrella day, with highs in the upper 40s to around 50 degrees.
Sunday keeps the chances for a few showers around with a warm front lifting up to the north out ahead of another cold front. Highs will be much warmer once again, as we'll see the mercury climb up into the upper 50s.
Looking ahead, the mild pattern looks to continue as we wrap up the month of February here in the two Virginias. Our average high this time of year is in the middle 40s and there are no days in the next couple of weeks where we look to be below that, meaning that we're looking at very little snow chances ahead. Unfortunately, we still look to be in a bit of an unsettled weather pattern for the next couple of weeks, which will likely keep the mud around here in the two Virginias. Some daffodils are already blooming and with a pattern like this in place, look for a few more blooms to begin to pop up in the coming couple of weeks as we experience a bit of an early start to spring!
TONIGHT
Increasing clouds, remaining dry. Lows around 40.
MONDAY
Few showers, some dry time. Mostly cloudy. Highs around 50.
TUESDAY
Few showers continue. Highs in the middle 50s.
WEDNESDAY
Very warm with a few showers. Breezy. Highs in the upper 60s.
THURSDAY
Few showers. Very warm and breezy. Highs in the lower 70s.
FRIDAY
Mostly sunny, cooler. Highs in the middle to upper 40s.
SATURDAY
Some showers likely. Umbrella weather. Highs near 50.
SUNDAY
Few showers possible. Highs in the upper 50s.
MONDAY
A good bet for a few gusty rain showers. Highs in the middle 60s.
TUESDAY
AM showers, PM clearing. Highs in the middle 50s.
WEDNESDAY
Partly sunny and warmer. Highs in the upper 50s.