Advisories Issued for Our Region
Winter Weather Advisory: McDowell, Mercer, Wyoming, Raleigh, Fayette, Nicholas, Greenbrier, Pocahontas, Summers, Monroe, Tazewell, Bland and Giles counties until 10 a.m. Wednesday
---
Tonight brings snow showers into the picture, which could cause a light accumulation to take place. This will likely result in around an inch of snow on the grassy surfaces – enough snow to cause a few slick spots on the area roadways.
Across our extreme southern counties in Virginia, temperatures will likely be just warm enough for freezing rain to take place, where a few hundredths of an inch of ice accretion is possible, which could also cause slick roadways. Low temperatures tonight will drop down into the middle 20s, with slightly warmer conditions across our far southern counties along the West Virginia/Virginia border. Expect a slick commute in spots for your Wednesday morning.
Wednesday a stationary front will keep a few snow showers around for the morning hours with temperatures cool enough to support the wintry weather for the morning commute. It's another day where early morning travel could be hazardous. Midday, we'll see temperatures push into the middle 30s and we will begin to see conditions clear out as high pressure tries to work in from the north. Overall, expect a mostly cloudy afternoon, with highs in the middle 30s.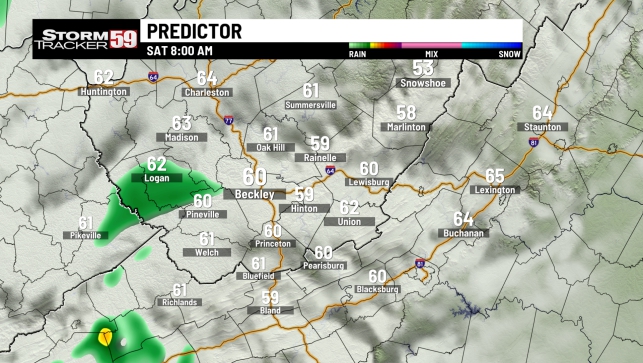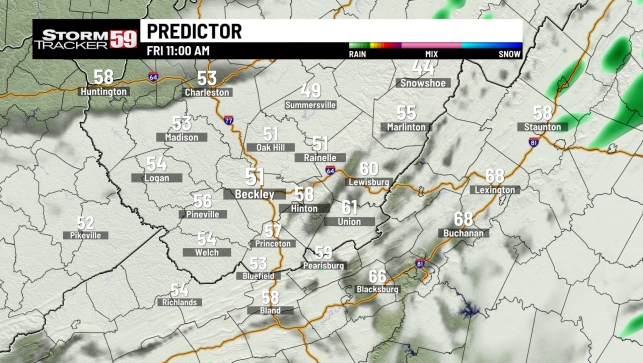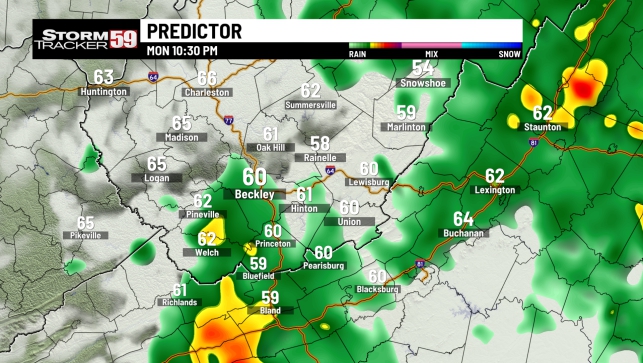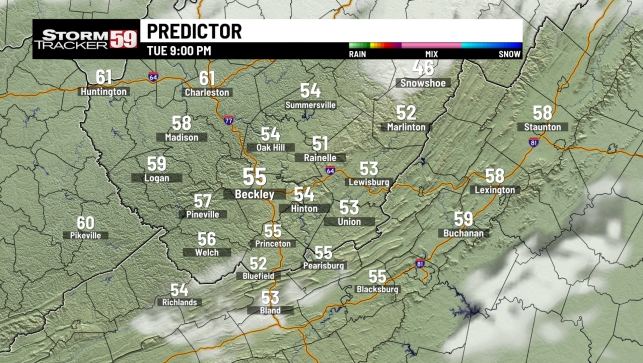 Thursday brings a mixture of rain and snow showers in a very light variety across our southern counties. North of I-64, expect mostly cloudy but dry conditions. Temperatures will remain slightly below freezing, with highs in the upper 30s. Watch out for some black ice during the morning commute once again!
Friday is a frosty start but drier air pushes in from the northwest. Colder, sure, but at least our gloomy run is coming to an end. Despite more sunshine through the day, blustery northwest winds will keep us chilly with highs only in the upper 20s. Wind chill values will likely be down into the teens with the breeze, so be sure to plan to bundle up!
Saturday looks a little more seasonal with an abundant amount of sunshine. It will be a brutally cold start, with many locations down to around 10 degrees, but a nice return flow with a southwest breeze will warm us all the way up into the lower 40s – so after a frigid few hours to begin the day, we'll wrap up the day on a decent note.
Sunday brings mostly cloudy conditions back into the picture with a clipper system up to our north. It looks to remain far enough north to keep precipitation chances away from the region, but expect some clouds to cover up the sun for a majority of the day, with highs in the middle 40s.
Monday brings an area of high pressure to our northeast, which will allow temperatures to warm up nicely into the lower 50s.
Tuesday allows the clouds to build from west to east as we progress through the afternoon, with our next storm system embarking toward the region. At this point, most of the day looks dry, but chances for rain will be on the increase as we head toward dinnertime. High temperatures will jump up into the middle 50s, so it's a mild afternoon on the way.
In your extended forecast the prospect of a warmup is looking likely for the early part of February. However, the on-again, off-again lineup of storm systems looks to keep us generally soggy at times. For now, the muddy winter of 2023 looks to hold true to its name with no real threat of a major (or minor for that matter) snow event across the two Virginias in the foreseeable future.
TONIGHT
Mostly cloudy with snow showers returning after midnight. Light snow accumulations up to around 1 inch for most. Lows in the middle 20s.
WEDNESDAY
Slick morning commute with lingering flurries, dry but mostly cloudy PM. Highs in the middle 30s.
THURSDAY
Few isolated showers south. Highs in the upper 30s.
FRIDAY
Windy and cold. Sunshine. Highs in the upper 20s.
SATURDAY
Mostly sunny and warmer! Highs in the lower 40s.
SUNDAY
Mostly cloudy and remaining mild. Highs in the middle 40s.
MONDAY
Partly sunny and warm once again! Highs in the lower 50s.
TUESDAY
PM showers possible. Warm. Highs in the middle 50s.
WEDNESDAY
Few AM showers. Highs in the middle 40s.
THURSDAY
Decreasing clouds. Highs around 50.
FRIDAY
Few showers possible. Highs in the upper 40s.