WIND ADVISORY continues until 3 a.m. Friday for northwestern Pocahontas County.
---
Tonight keeps the clouds around, with mostly cloudy conditions persisting in an otherwise quiet overnight, with low temperatures dipping back into the middle 30s. It might feel a little weird with cooler weather back into the region considering how warm it has been at times!
Friday is a cooler day behind our cold front with a west to northwest wind flow and mostly cloudy skies. Thankfully, the strong wind gusts we experienced on Thursday will be history but an occasional wind gust of 15 or 20 mph is still possible. High temperatures will be cooler in the middle 40s but that's still above our average high temperature of 43 for this time of the year.
Saturday brings big changes to the forecast, as our weekend storm system is beginning to really come into focus. Saturday is trending much drier now, with mostly cloudy temperatures and highs very seasonal for this time of year in the lower to middle 40s. We won't see a lot of sunshine, but at least conditions will be dry. That does change for Sunday.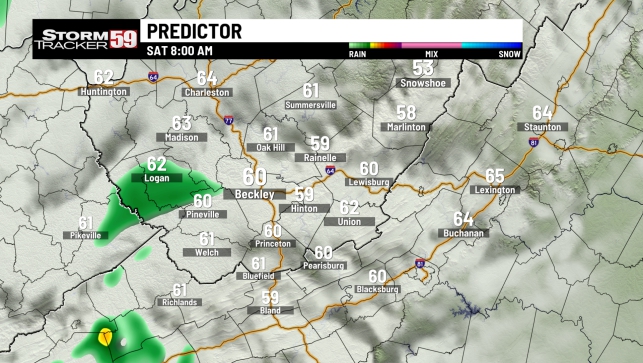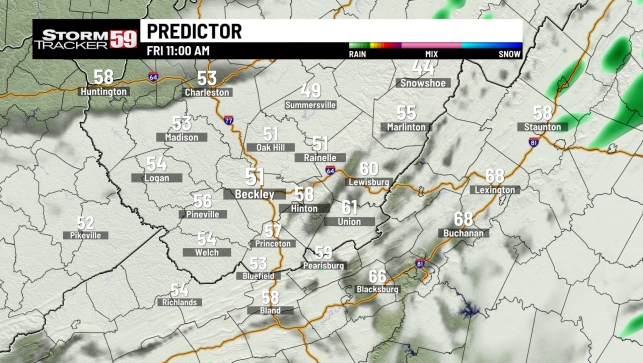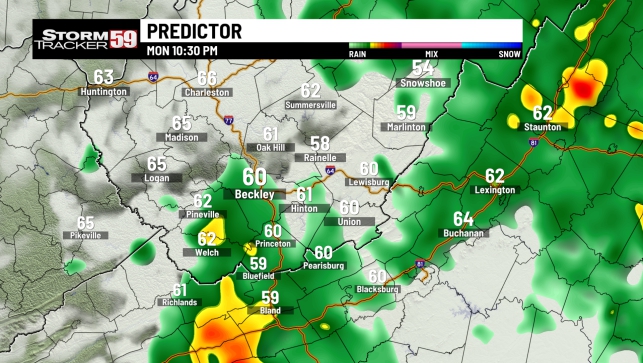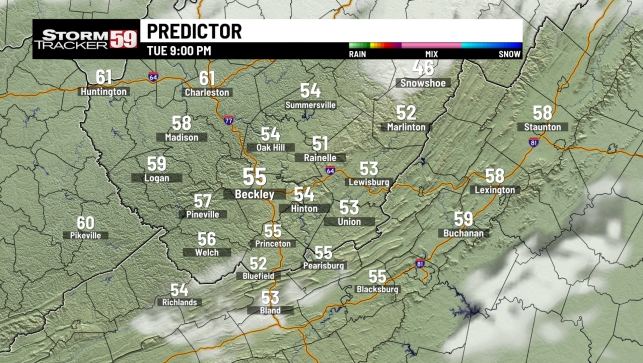 Sunday is when we expect our storm system to arrive, as an upper level system spins out of the gulf and toward our region. Though the biggest impacts from this wintry season looks to be south of our area, some brief morning light freezing rain, followed by afternoon snow showers will be possible.
The timing of this storm system impacting our region does not favor a lot of accumulating snow, and those chances really drop as one travels north. A light grassy coating is possible at this point in many towns, with perhaps an inch or two of snow across our southern counties in Virginia. Despite modest snow totals, this could still create some slick travel Sunday evening during the big game, so be aware of that! Some small fine-tuning still will likely take place over the next 24 hours, so stay tuned for updates! Highs will be much cooler with the snow shower activity, with highs in the middle 30s.
Monday we return the sunshine for the entire day. A frosty start with many of us in the upper 20s but southwest winds and sunshine get to work early on as we push temps through the 30s and into the middle 40s for highs – not a bad start to the work week overall!
Tuesday is also a nice day for February with more sunshine to start and only a few fair-weather clouds in the afternoon. Highs push into the lower to middle 50s once again as warmer air pushes in ahead of our next rain maker. Clouds increase Tuesday night into our Wednesday early morning with rain holding off until the very early hours of Wednesday.
Wednesday brings the chance of a shower or two as temperatures remain warm in the lower to middle 50s. There will still be plenty of dry time but skies will primarily be mostly cloudy.
Thursday looks to bring our next potent storm system into the picture, with a warm front likely to cross in the morning, a break where temperatures soar under a stout southerly breeze and then a strong cold front pushes through the region for the evening. Breezy conditions are expected, similar to what we expected this Thursday and high temperatures will once again be very warm out ahead of the front in the lower 60s.
In your extended forecast a few more soggy days ahead as we continue to see our jet stream fluctuate as we transition away from La Nina influences. The pattern of a few warm days followed by cooler days will be the result with showers here and there. Indications are still strong for a cool down late February with cold air returning late next week.
TONIGHT
Mostly cloudy and quiet. Lows in the middle 30s.
FRIDAY
Mostly cloudy and still breezy – not like Thursday though! Highs in the lower to middle 40s.
SATURDAY
Remaining mostly cloudy and cool, with highs in the lower 40 to middle 40s.
SUNDAY
A mix of rain and snow showers likely. Highs in the middle to upper 30s.
MONDAY
Warming back up with sunshine. Highs in the middle to upper 40s.
TUESDAY – VALENTINE'S DAY
Another nice day, warm. Highs in the lower to middle 50s.
WEDNESDAY
A few scattered showers. Highs in the upper 50s.
THURSDAY
Rain likely. Breezy! Highs in the lower 60s.
FRIDAY
Flurries early, clearing PM. Highs in the lower to middle 30s.
SATURDAY
Mostly cloudy, seasonal. Highs in the middle 40s.
SUNDAY
Mostly sunny and a bit warmer! Highs in the middle to upper 40s.