Advisories Issued for Our Region
WIND ADVISORY in effect from 8 a.m. Thursday to 3 a.m. Friday for northwestern Pocahontas County.
WIND ADVISORY in effect from 8 a.m. Thursday to 10 p.m. Thursday for McDowell, Wyoming, Raleigh, Fayette, Nicholas and Webster counties. 
---
Tonight provides a few showers with a warm front crossing through the region. Much like what we saw back on Tuesday morning, these showers won't do much other than perhaps dampen area roadways. That warm front will keep temperatures very mild, with a southwesterly breeze continuing as low temperatures only drop to the upper 40s.
Thursday, our warm front lifts north with continued showers likely in the morning. Most skate by with light showers. We'll be breezy, if not windy, at times with winds pushing 15-25 mph mid-morning on.
We'll reach the low to mid 60s by the afternoon as showers come to an end late afternoon. This is when winds will shift from the west and temps will begin to cool as the system exits bringing in colder air. Overnight lows drop into upper 30s and low 40s.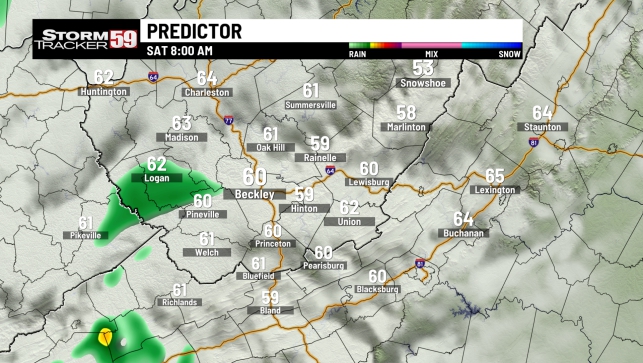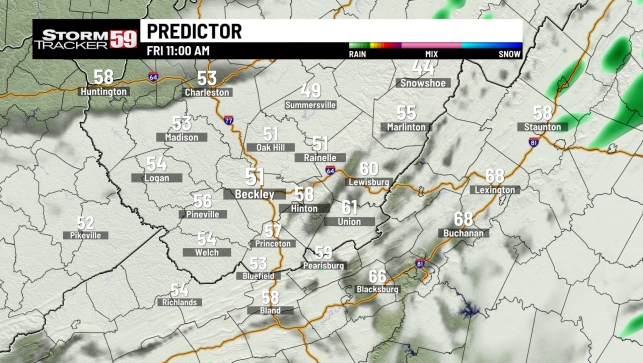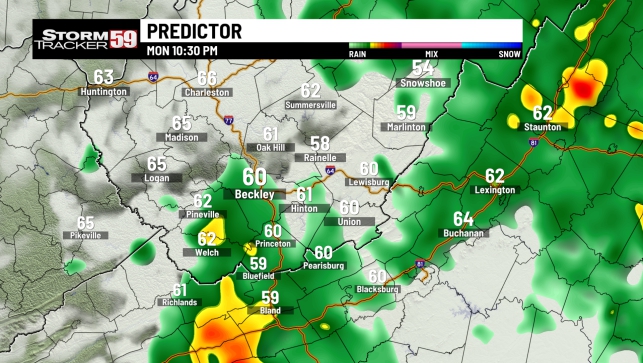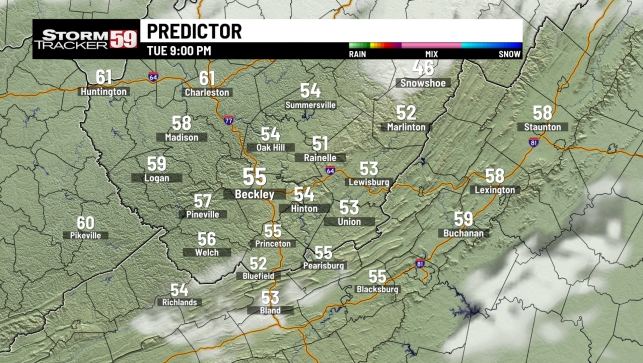 Friday starts off dry with more sunshine than not. Breezy at times as westerly winds continue to bring in cooler air. Temperatures won't warm as fast as they have the last couple of days, but we will still manage to reach the lower to middle 50s, while the mountains will stay a touch cooler in the upper 40s and lower 50s. Clouds are on the increase Friday evening as a southern system approaches. Showers and even some mountain mixing is likely as temps tumble near freezing overnight.
Saturday is still a day up in the air, but trends appear to be running warmer as our system from Friday evening slides farther towards our south. At this point, it is looking less likely that we will see much in the way of snow and more of a messy wintery mix of sleet, wet snowflakes, and rain. Mountain counties along the ridgelines are looking at a potential for a light accumulation of snow but the lowlands look to deal with nothing but soggy conditions. Temperatures are held down to around 40 degrees for highs. This could still change though and we should have a good idea about this complex storm system on Thursday!
Sunday a few lingering snowflakes for the mountains are possible but most will see clouds beginning to fade by mid-morning. Partly sunny skies for most Sunday afternoon with more clouds than not for the eastern mountains. Afternoon highs are warmer than average in the middle 40s, but wind chills will certainly make this feel colder. Skies continue to clear into the evening as high pressure builds back in.
Monday, we return to the warmth and sunshine for the entire day. A frosty start with many of us in the upper 20s but southwest winds and sunshine get to work early on as we push temperatures through the 40s and into the low 50s by the afternoon. The dry and clear conditions continue into the evening setting us up for a nice, quiet start to our week.
Tuesday is a nice day overall for February with more sunshine to start and only a few fair-weather clouds in the afternoon. Highs push into the lower to middle 50s once again as warmer air pushes in ahead of our next rainmaker. Clouds increase Tuesday night into our Wednesday early morning with rain holding off until the very early hours of Wednesday.
Wednesday brings those shower chances back into the picture with our next storm system sliding in. Despite the showers and clouds, we're looking at mild conditions once again, as the mercury looks to climb into the middle 50s. This showery pattern looks to also continue into our Thursday.
In your extended forecast a few more soggy days ahead as we continue to see our jet stream fluctuate as we transition away from La Nina influences. The pattern of a few warm days followed by cooler days will be the result with showers here and there. Indications are still strong for a cool down late February with a shot of cold air into the middle of next week likely.
TONIGHT
A couple of sprinkles, otherwise cloudy. Mild, with lows in the upper 40s.
THURSDAY
AM rain, brief break, PM showers. Windy. Highs in the middle 60s.
FRIDAY
Windy and cooler. Clouds building back late. Highs in the lower 50s.
SATURDAY
Rain and snow showers possible. Highs near 40.
SUNDAY
Mountain flurries early, clearing for all PM. Highs in the middle 40s.
MONDAY
Warming up with sunshine. Highs around 50.
TUESDAY
Another nice day, warm. Highs in the lower 50s.
WEDNESDAY
Scattered showers return. Highs in the middle 50s.
THURSDAY
Hit and miss showers possible. Highs in the middle 50s.
FRIDAY
AM showers. PM sunshine. Temperatures drop from the 50s into the 40s.
SATURDAY
Clear and colder. Highs in the middle 30s.