Tonight's provides the chance for a few sprinkles in an otherwise mostly cloudy night. Temperatures will not drop nearly as much tonight, as our southerly breeze persists, and we see low temperatures drop down to only the middle 40s – that's warmer than our average high for this time of year!
Wednesday begins with a few sprinkles around dawn with a weak cold front crossing. The air mass behind this front is not really any colder, but we will be dealt with mostly cloudy for the first half of the day, with some sunshine for the second half of the day. High temperatures will soar into the middle 60s – not record territory but more than twenty degrees above average for this time of year. With continued anticipated breezy conditions, be aware of an enhanced brush fire risk, with wind gusts in the neighborhood of 25 to 40 mph possible! 
Thursday will be similar to our previous Thursday in the two Virginias: a warm front will lift north during the morning, making for a wet commute as you head out the door. We will likely see a break in the rain shower action with perhaps a few peaks of sunshine during the afternoon before a potent cold front crosses during the evening hours.
This cold front will likely be the focus of some severe weather Thursday farther back to the west across portions of the Bluegrass State, Indiana and Ohio but this threat should be pretty well extinguished by the time the front makes it to our region. Nonetheless, gusty winds can be expected, with wind gusts peaking in the neighborhood of 30 to 50 mph looking possible. It'll be very warm once again as well, with highs in the middle to upper 60s – just like last week, if we see a little sunshine during the afternoon, we'll make a run at 70 degrees!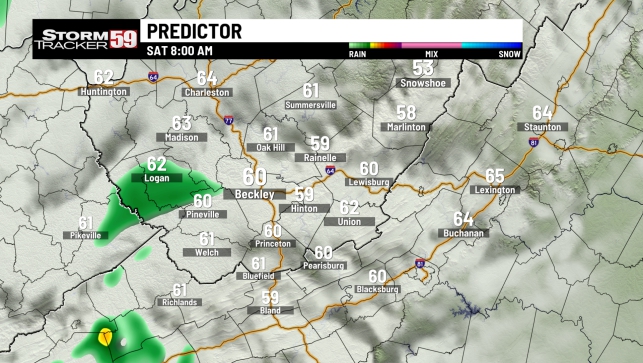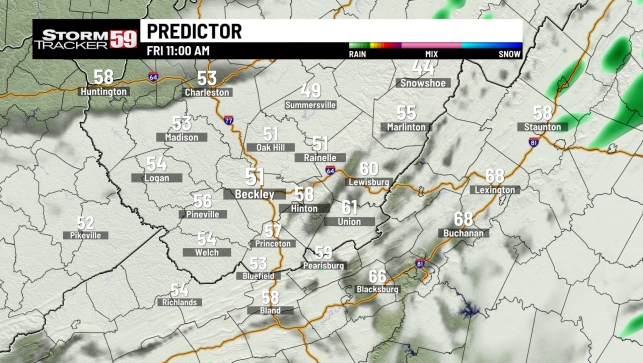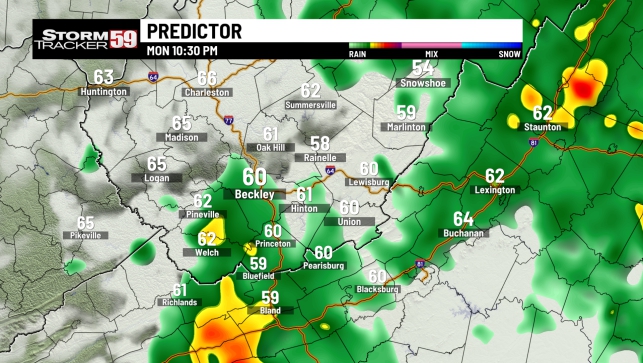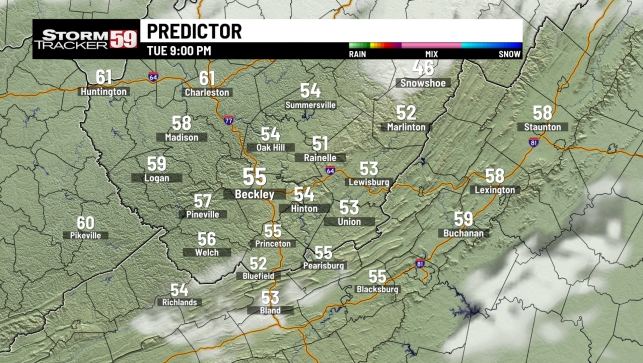 Friday allows Old Man Winter to make a return, with pesky snow showers expected over the mountains. Otherwise, it'll be a mostly cloudy and gloomy day with a northwesterly flow, which will drive colder air down from the Great Lakes, as highs only reach the middle to upper 30s.
Saturday brings high pressure back into control for our area, which allows the sunshine to return. We'll see a decent warmup, with high temperatures near average in the middle 40s as our wind begins to shift back to coming from the southwest.
Sunday is much warmer, with plenty of sunshine and that southwesterly flow bringing some warm air back into the region, as we'll see high temperatures in the middle to upper 50s. Enjoy this dry weekend because next week is looking quite unsettled beyond Monday.
Monday continues the dry trend, with increasing clouds in the afternoon and high temperatures in the middle 50s.
Looking ahead, once we move past next weekend, the pattern looks a bit more wet for the following week with a series of storm systems likely to impact our region over a relatively short period of time. Though the mild weather pattern looks to continue through around the 20th of February, all signs still point to a bit of a cooldown for the end of February into the beginning of March but at this point, no real chances of accumulating snow appear to be looming – both Beckley and Bluefield have received only about 20 percent of our typical snow totals at this point for the snow season so far… Speaking of that wet pattern, long term solutions are hinting at a stalled frontal boundary in our neck of the woods for the middle of next week. This could create our first risk for some local high water issues of the year if this were to transpire – we'll be watching this pattern closely!
TONIGHT
Mostly cloudy with a few sprinkles. Lows in the middle 40s.
WEDNESDAY
AM sprinkles around dawn, otherwise, partly cloudy in the afternoon and breezy. Highs in the middle 60s.
THURSDAY
AM showers, lunchtime break, PM gusty showers. Warm! Highs in the middle to upper 60s.
FRIDAY
Pesky snow showers, otherwise, mostly cloudy. Highs in the middle to upper 30s.
SATURDAY
Mostly sunny and seasonal! Highs in the middle 40s.
SUNDAY
Mostly sunny and warmer once again. Highs in the middle 50s.
MONDAY
Mostly cloudy and perhaps a sprinkle or two toward dinnertime, with highs in the middle 50s.
TUESDAY
Few showers likely, could be steady. Highs in the upper 50s.
WEDNESDAY
More chances for steady showers. Highs in the upper 50s.
THURSDAY
Showers exit during the morning hours. Cooler. Highs in the middle to upper 40s.