For West Virginia, March 20th is the official start of the spring 2023 season, set to arrive at 5:24 PM this evening, with the Spring Equinox. It is also the start of West Virginia's Severe Weather Awareness Week running March 20th – 24th. The National Weather Service in Charleston hosts the event to better prepare our state for the upcoming storm season.
Your StormTracker 59 Team is participating with a daily severe weather topic all week long. With West Virginia holding a statewide tornado drill Wednesday, we though this the perfect day to talk about Tornado Safety, myths, and stats. Join us on air at 6am, 7am, 6pm, or 10pm Monday- Friday for our special weather presentation.
Your Detailed Forecast
Wednesday will be a good day to take the umbrella with you as you leave. Showers push in west to east just in time for the morning commute. Light to moderate showers persist much of the morning before we catch a break for the afternoon and evening. Temps take a hit without the March sunshine but southerly winds keep us near the 50 degree mark for highs. Mostly cloudy skies overnight and an uptick in south winds to 10-15mph keep us mild as we stay in the upper 40s for overnight lows.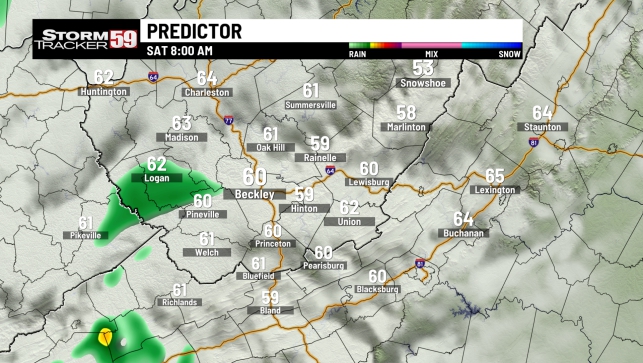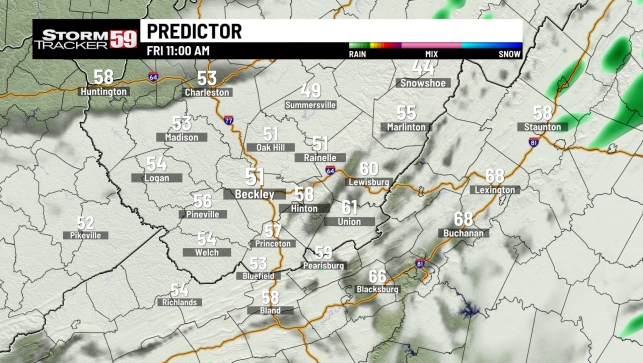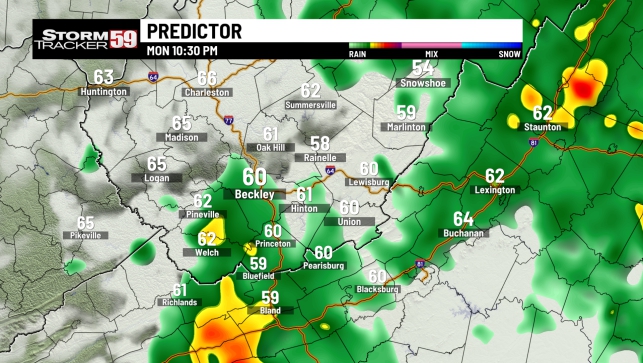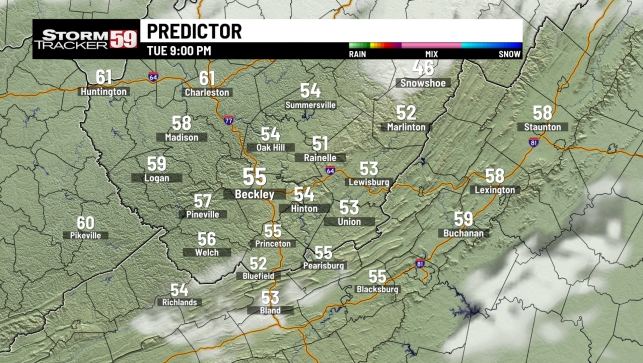 Thursday keeps the chance, albeit small one, of showers in the morning as a complex system continues to push north into Canada. There is just enough moisture and instability in our region to foster a passing sprinkle but most will simply see mostly cloudy skies to start. Temps will take a big jump despite the early clouds with afternoon sunshine and stout south winds. Wind gusts pushing 25-30mph at times in the afternoon. Many push into the low 70s as a result before clouds and showers return Thursday night. An approaching cold front moves in for the overnight hours bringing steady rains through Friday.
THURSDAY NOTE: Southerly winds continue to increase throughout the day pushing 25-30mph wind gusts at times. Ridgelines may run 30-35mph at times. Luckily trees don't have leaves yet so the impact will be low in that regard. With that said however, a diseased or damaged tree may still fall causing localized power outages. Outdoor décor, trash cans, etc., will be susceptible to these momentarily strong wind gusts so best to anchor them or simply bring them inside if possible.
Friday will once again be a warm day despite the passage of a cold front in the overnight hours. Showers will be steady at times for the morning hours with heavier rain likely by the afternoon as a warm front lift north through the region. The one two punch from cold to warm fronts will keep temps near the 70 degree mark. We'll catch a small break in the rain overnight Friday but our next front set to move in Saturday morning.
Saturday showers will still be with us through the morning hours as another cold front begins to push across the region. A few broken lines of scattered showers then a slow but gradual clearing for the afternoon as cooler and drier air moves in behind the front. Highs for the day will be slightly cooler than Friday but still reaching the 60s.
Sunday is shaping up to be a nice day as sunshine greets us out the door and remains with us all day long. Temps are a bit sluggish in the morning but we warm up nicely by the afternoon returning to the 60s. Over all, not a bad recovery after a cold front like we saw on Friday. Overnight lows once again drop back into the upper 30s and low 40s under clearer skies.
Monday clouds thicken for our morning hours with a few sprinkles returning but overall many will stay dry through the start of the day. Afternoon highs still push towards the 60s but clouds and scattered showers really start moving in as a weak system pushes in. Evening plans will still need an umbrella but the system will be pushing out by this time. Overnight just a few lingering showers as we cool back into the low 40s.
Tuesday is another gloomy day as those spring showers really start to live up to their name. Temps will be cooler thanks to Monday's system as we struggle our way to the low 50s by the early evening hours. Showers will begin to tapper off Tuesday evening for a short break before rain returns Wednesday.
In your extended forecast, temps still bounce around a bit as we bounce around the 40-60 degree mark for afternoon highs from day to day. The unsettled patter continues which is fairly typical of the season. With April just around the corner, those showers will certainly help bring in the May flowers as those showers are already having a big effect on our pollen counts.
With spring officially getting underway remember spring fire season bans are enforced for both Virginia's. Ban times vary by state however the rules are similar. Only burn vegetation, remain with your fire at all times, have a safety perimeter of at least 10 feet around your fire, and be sure your fire is completely extinguished before leaving it. This time of year, brush fires can happen quickly, potentially leaving you on the hook for fines, damages, and lawsuits if found to be burning outside of state guidelines.
WEDNESDAY
Widespread showers early, tapper off PM. Highs in the low 50s.
THURSDAY
Iso. shower poss. Many dry hours. Windy. Highs in the 70s.
FRIDAY
Widespread showers. Some break, very brief late. Highs in the 70s.
SATURDAY
Lingering AM showers fade through the day. Highs in the mid 60s.
SUNDAY
Sunshine and nice. Highs in the 60s.
MONDAY
Hit and miss showers return. Highs in the low 60s.
TUESDAY
Steady rain AM, clearing late. Highs in the 50s.
WEDNESDAY
Early showers, tapering off PM. Highs in the 40s.
THURSDAY
Dry start, mostly cloudy PM. Rain late. Highs back in the upper 50s.
FRIDAY
Sct. showers here and there. Highs in the mid 50s.
SATURDAY
Soggy pattern continues. Highs in the mid 40s.